Caravan to Wondergrass
WinterWonderGrass Festival and Elephant Revival are teaming up with the Caravan Outpost to produce Caravan to WonderGrass—a unique one-day music and arts gathering for the whole family. Taking place in beautiful Ojai, California on Saturday, November 18th, Caravan to WonderGrass promises a simple, sustainable and inspired gathering of music, arts and community with an emphasis on supporting local artisans.
Ojai, California

The Libbey Bowl

Saturday, November 18
All Ages
1-8pm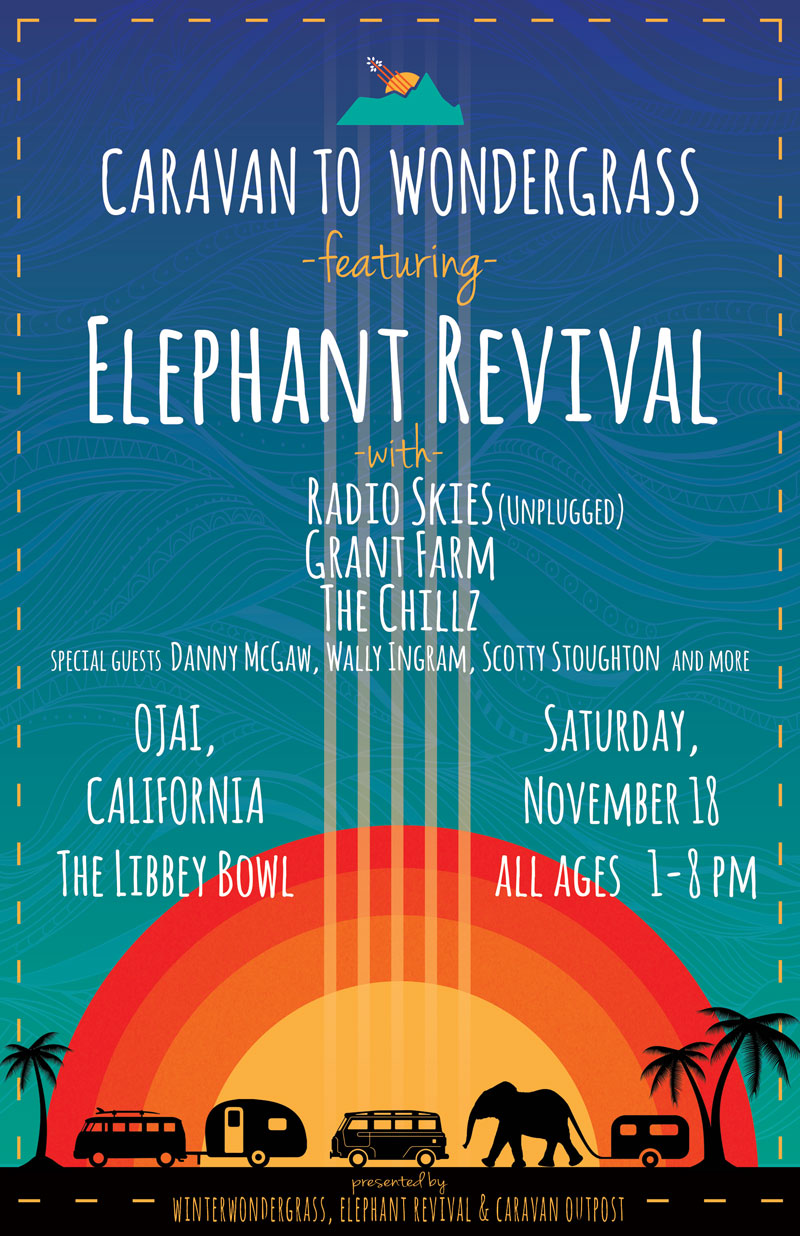 Deluxe VIP Caravan Packages
Limited number of three-day tickets
Friday
Farm to Fret Dinner
Ft. Elephant Revival
5-9pm
"Farm to Fret" is a locally inspired farm-to-table experience held at Caravan Outpost, a luxury Airstream Adventure Hotel in downtown Ojai, followed by a private performance from Elephant Revival and special guests.
Saturday
Caravan Festivities
1-8pm
Live music featuring sets from:
Elephant Revival
Radio Skies (unplugged)
Grant Farm
The Chillz
With special guests Wally Ingram, Danny McGaw, Scotty Stoughton and others
Sunday
Morning Sendoff
Ft. Bonnie Paine
9-11am
A Sunday Morning Sendoff with coffee, tea and pastries at Caravan Outpost, featuring an acoustic set from Bonnie Paine and friends.
Places to Stay

Caravan Outpost
Caravan Outpost is a creative and consciously driven community that allows you to wander, learn and go to special places in a unique way.
Dennison Park
Just outside of East End Ojai, going into Upper Ojai
Camp Comfort
On Creek Road around Oak View, off the 33 coming in from Ventura
Foster Park
Off the 33 before you hit Casitas Springs
Casitas Lake Campground
On the 150 Highway, just outside of town heading to Carpenteria
Matilija Canyon
No fees
Sespe
40 mins out